Today we will see one superb and interesting post. Sweet home 3D is the software will provide to build home and its look like an real home. High lights is we can learn our self. Its very easy to learn and finally we can build one real home. Sweet home 3d is freeware. Surely you will get wonder finally. Below i explained briefly.


Once you started to build the home means you will continuously works with them automatically. After you built, you will enter in to home and see how it will look. You can make video also. I request you no one miss this software. Every one must give chance to try.
ABOUT SWEET HOME 3D
SUPPORTING OS:
Windows, Linux, Mac, Solaris
DOWNLOAD LINK:
SWEET HOME 3D
COST:
Free

In this post, you will build one real home. Its very easy. Just pick the materials and drop it. Finally your home will come. I explained below basics steps. Its enough to build the home. Lets begin to build our home.
STEP 1:
Before start to build the home , we must learn some basics. When you open new file, form will come by divided as 4 parts.To help see the picture below. Click the below image and enlarge it. Then only this picture will appear in clearly and able to read.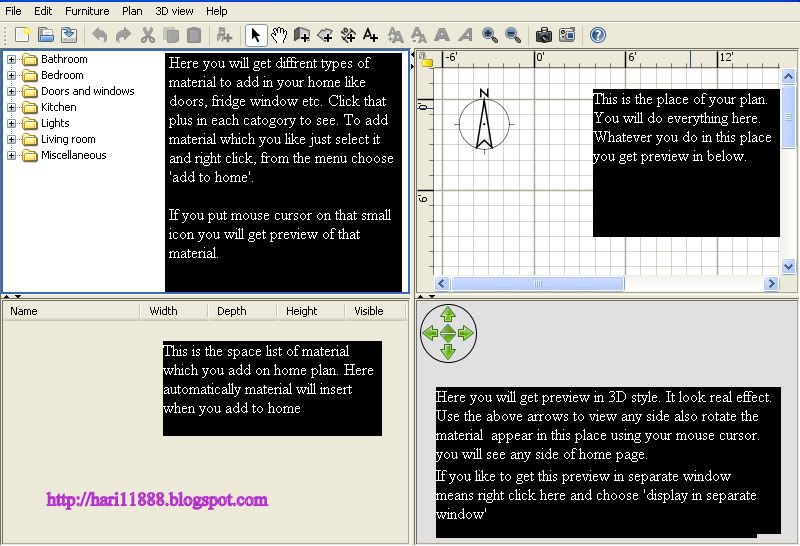 BASICS INFO YOU MUST KNOW


STEP 2: CREATING WALLS
First we need to create walls. Then only we can able to build our home. Just draw square in plan area and see the preview below. To create walls, In menu bar, click the '
plan
' tab and then click '
create walls
'. Then draw square in plan area. See the below picture to create wall. Enlarge it by click this picture. So like this create walls to your home first.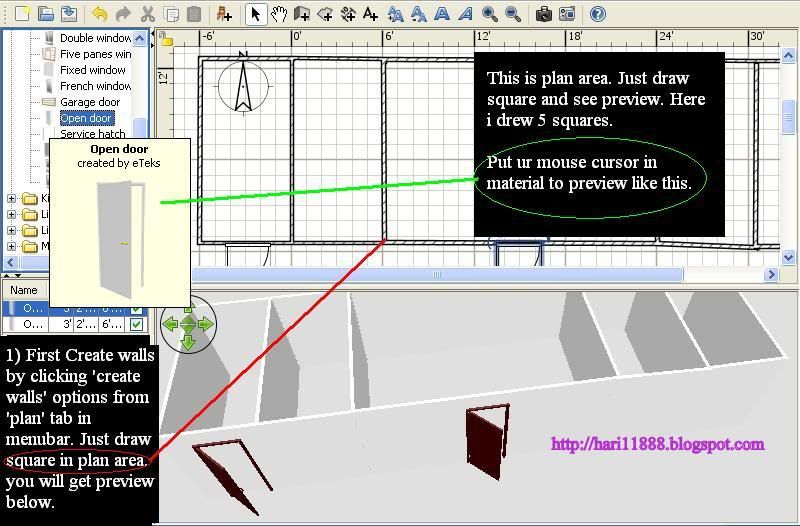 CREATING WALLS
STEP 3: ADD THE MATERIALS
Now we see how to add the material. Just put your mouse cursor in material to preview. To add that material , single click on it and right click, then select '
add to home
'. Now material will come in plan area. Put that material in plan area where you like it. Here i added open door. Like that you can add fridge, tv, light etc. To help see the picture. If you select that material means you will get lot of options to set that material in correct position. Add all materials in your home.
ADDING THE MATERIAL
Till now we learned ways to build the home. By considering the post length, we stop here, in next part we decorate our building and tips to give cute look to your home. Till that, create your attractive home.