Now we will see one use full trick in gmail. Already we saw some useful feature in gmail posts and gmail post using Google Labs. Google Lab provide permanent and wonderful feature to gmail by enable the particular feature. Now also, we see one useful feature in google lab. Nowadays most of the members don't know about this google lab. If you enable these google lab features, your gmail account is more different from others. Google labs provide unique feature to your gmail account.

I think most of the members sure met this problem. While composing email, we add only characters in email body and design it as our wish. But
not possible to insert the images
in email body. Instead of that, we
attach the image
(Remember, attaching the image in email is differ from inserting the image in email body )
and send it to receiver. Inserting image in email body reduce our work load also. Some times we will meet the situation to attach the image in email body instead of attachment. But gmail does not have an option to attach the images in email body. To avoid this limitation, google labs called '
inserting images
' is useful.
Inserting Image
Google lab feature allows you to insert images into a message body. You can upload and insert image files in your computer, or insert images by URL.
This lab will not work if you have offline enabled
. If you enable this feature, a image icon appear in compose mail tool box list. (
See the picture provided below
). Using that icon, you can add the image in body of email. You can feel this lab feature is simple, but it is very useful, enable this feature and helpful to you some critical situation.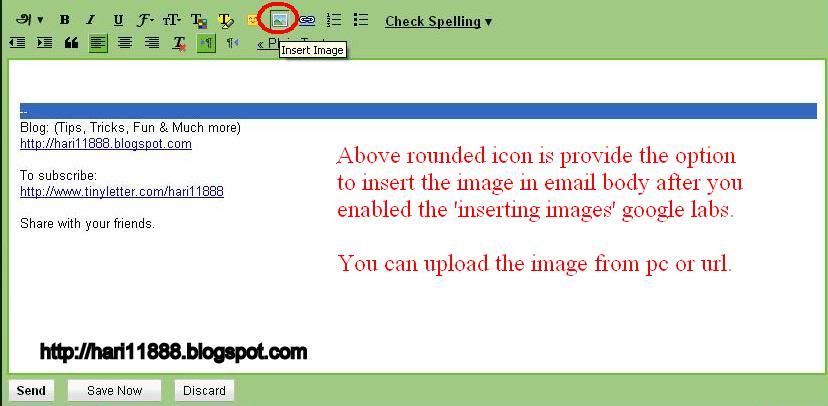 INSERTING IMAGE ICON - HELP
HOW TO ENABLE INSERTING IMAGE FEATURE?
Log in to your gmail account. Click the settings at top right corner. Now click the '
Labs
' Tab. Now you will see lot of lab feature. Find the '
Inserting Images
' and click the '
enable
' options. Finally Don't forgot to click '
save changes
' button at the bottom.